Meetings
Next Meeting
Friday, August 7, 2020
Download the PDF ZOOM Guide from HERE
Note: Please make sure you're running the latest version of ZOOM in order to connect.

Date & Time: August 7th, 2020 07:00 PM Pacific Time


Program:

"Transceiver Performance for the HF - DX Operator"
by Rob Sherwood, NC0B

How good is your receiver in todays operating environment?  What should I look for when researching a new receiver or transceiver?  Rob will give us some performance items to consider when looking for a replacement receiver or transceiver for our shack.

Bio
Ham radio began for me in 1961 in Cincinnati, Ohio, as both a novice and general-class operator.  After graduating college in 1969 with a degree in physics, I moved to Denver and worked for KOA radio as an engineer until 1987.  While at KOA, I maintained their 50 KW AM and FM transmitters, microwave links and studio equipment.

1974 saw the beginning of Sherwood Engineering, offering roofing filters and upgrade kits for the Drake R-4C.  In 1976 I started measuring receiver performance on dozens of radios, since reviews in QST did not correlate with actual on-air observations at crunch time in CW contests.  In 1977 "ham radio magazine" published the first of several of my articles on receiver problems and cures, vertical antenna ground systems and mobile antenna efficiency.  Those articles are available on my web site as PDF files.  Receiver test data is now web based with over 100 transceivers included at www.nc0b.com/table.html.

Rob has give talks at several Ham Conventions over the years including Dayton, Visalia, Cosy Wyoming HamCon, Duke City Hamfest, and many others.

Thirteen years ago, my XYL encouraged me to build my dream contest station on 10 acres east of Ft. Collins, Colorado on the Pawnee Grassland.  This has made it possible to evaluate top transceivers in major contests in a real-world environment to augment my laboratory data.  This rural setting has allowed me to focus my interest on effective antennas.  Six towers support 9 mono-band HF yagi antennas, plus 6 and 2 meters, and several wire antennas on 160, 40 and 30 meters.  A 70cm yagi was added in the fall of 2019.

My most recent new project has been making contacts on the new 630m band with a transverter from Australia.  An IC-7300 on 160 meters handles receiver and transmit on 630m.  I use my 160-meter Marconi T antenna with a separate tuner.

Join Zoom Meeting

https://us02web.zoom.us/j/87015555822?pwd=UkNxOXJaSFFKelJIbENkUTR6dTVZUT09


Login: Name and Call sign


Meeting ID: 870 1555 5822
Passcode: 856701
One tap mobile
+16699006833,,87015555822#,,,,,,0#,,856701# US (San Jose)
+12532158782,,87015555822#,,,,,,0#,,856701# US (Tacoma)

Dial by your location
        +1 669 900 6833 US (San Jose)
        +1 253 215 8782 US (Tacoma)
        +1 346 248 7799 US (Houston)
        +1 301 715 8592 US (Germantown)
        +1 312 626 6799 US (Chicago)
        +1 929 205 6099 US (New York)
Meeting ID: 870 1555 5822
Passcode: 856701
Find your local number: https://us02web.zoom.us/u/keEdwBlPbt

Login: 1st name & call


73,
Past Meetings
Click on The Year/Month Below For A Past Meeting
Club Meetings





The Palo Alto Amateur Radio Association meets on the 1st Friday of the month at 7:00 pm (19:00 J) (except when the first Friday lands on a holiday and typically moved to the 2nd Friday of the month).

PLEASE NOTE: The meeting location has changed. We will now be meeting in Meeting Room H6, in the Cubberley Community Center in Palo Alto. Further information is below.

Click Here For Detailed Driving Directions

Location: Cubberley Community Center; 4000 Middflefield Road, Palo Alto, CA 94303.
Telephone: (650) 329-2418.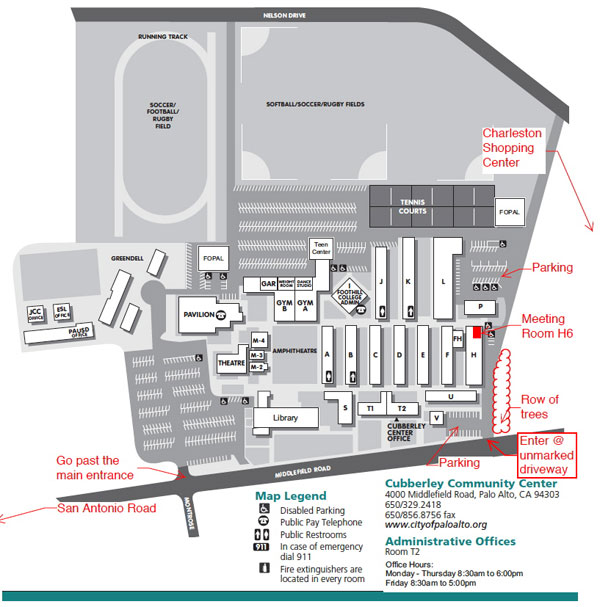 After the meeting, many members gather for beer, pizza, and eyeball QSOs at Pizza Chicago, located at 4115 El Camino Real, in Palo Alto..
Location: https://www.pizzachicagopaloalto.com/



Board Meetings



The PAARA Board meets on the 3rd Wednesday of every month at 7:00 pm at the home of Marty Wayne, W6NEV. Address is: 1039 Bryant Way, Sunnyvale, CA. We conduct most of our club business there in order to allow more time for guest speakers and socializing at regular club meetings. Any PAARA member is welcome to attend.

A few meetings throughout the year have pre-defined agenda items. These include:



September Board Meeting


The Nominating Committee is appointed by the President to decide on a slate of candidates to be recommended to the membership.



October General Meeting


The Nominating Committee presents its nominations to the membership at the regular club meeting. Nominations from club members opens at the beginning of the meeting, and closes at the end of the meeting.