Meetings

Next PAARA Meeting
Friday, October 3, 2014

"Internet Outages: Not Just For Disasters"
by Michael Fox, N6MEF
Michael Fox, N6MEF, began his career in networking in the early 1980s, about 10 years before the commercial Internet as we know it existed. He participated in constructing the initial NSFnet links between universities that would later form the backbone of the big-I Internet. He designed, built and managed a state-wide network providing multi-protocol service (including SNA, DECnet, IPX, AppleTalk and, of course, TCP/IP Internet access) to all State agencies, universities, colleges, libraries and later, K-12. From there Mike moved on to the vendor side of the world, helping to design and build some of the largest enterprise and service provider networks in the world. He has held executive positions in worldwide systems engineering, technical support and operations at several networking vendors, large and small. Today he has his own consulting practice.

Michael is also a member of the Santa Clara County ARES/RACES packet committee which operates a county-wide data network utilizing amateur and other frequencies. The network has gateways to other packet networks and the Internet. The network is not dependent on the Internet and can operate without Internet or other external network connections and without commercial power for days or weeks or longer.

Past Meetings
Click on The Year/Month Below For A Past Meeting
Club Meetings





The Palo Alto Amateur Radio Association meets on the 1st Friday of the month at 7:00 pm (19:00 J) (except when the first Friday lands on a holiday and typically moved to the 2nd Friday of the month).

PLEASE NOTE: The meeting location has changed. We will now be meeting in Meeting Room H6, in the Cubberley Community Center in Palo Alto. Further information is below.

Click Here For Detailed Driving Directions

Location: Cubberley Community Center; 4000 Middflefield Road, Palo Alto, CA 94303.
Telephone: (650) 329-2418.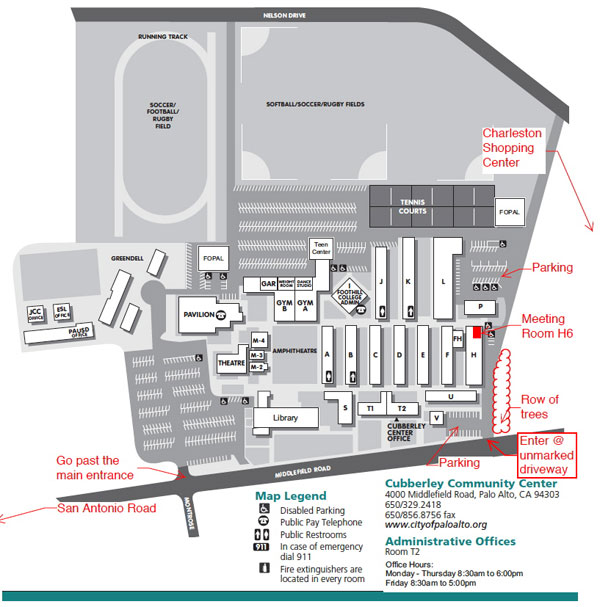 There is a pre-meeting dinner at the Su Hong Chinese resturaunt on El Camino Real, held to treat the guest speaker. Dinner starts promptly at 5:30 pm (17:30 J).
Location: 1039 El Camino Real Menlo Park, CA 94025

After the meeting, many members gather for beer, pizza, and eyeball QSOs at Round Table Pizza, located on El Camino Real, just a few blocks north of Su Hong.
Location: 1225 El Camino Real, Menlo Park, CA 94025



Board Meetings





Map & directions



The PAARA Board meets at 7:00 pm (19:00 J) at Round Table Pizza, located on El Camino Real, just a few blocks north of Su Hong. Location: 1225 El Camino Real, Menlo Park, CA 94025. We conduct most of our club business here in order to allow more time for guest speakers and socializing at regular club meetings. Any PAARA member is welcome to attend.

A few meetings throughout the year have pre-defined agenda items. These include:



September Board Meeting


The Nominating Committee is appointed by the President to decide on a slate of candidates to be recommended to the membership.



October General Meeting


The Nominating Committee presents its nominations to the membership at the regular club meeting. Nominations from club members opens at the beginning of the meeting, and closes at the end of the meeting.

December General Meeting
Elections are held at the December annual meeting.

Board of Directors and Appointed Staff