Meetings
Next Meeting Is Friday, May 1, 2015

"An Experimental 630M WSPR Station"
by Richard Webber, WR6J
Richard will tell us how to build a 630m WSPR (Weak Signal Propagation Reporter) station operating under the FCC's Part 5 license. The 630M band is destined to become an Amateur Radio band in the near future and understanding the propagation characteristics and how to build stations provides useful experience. The station comprises an Ultimate3 exciter kit, two home-brew tube amplifiers and an antenna with a large loading coil. He will also cover WSPR and the design and implementation of the station. between the competing radio formats.

Bio

Richard grew up in England and remembers making a small crystal radio receiver with his father in his childhood. He came to the US permanently in 1990. Interest in radios resurfaced when the no-code Tech license was introduced and friends talked him into getting his first ticket as KD6ELB in 1992. Richard's interest in amateur radio was rekindled in 2002 when he upgraded to Extra with his new callsign, WR6J. Richard's interest in HF DX led to his achieving DXCC. This particular interest revolved around HF antenna modeling, design and construction. Most recently he has taken a deeper dive into digital modes and weak signal propagation. He has also begun experimenting with tube amplifier construction.

Past Meetings
Click on The Year/Month Below For A Past Meeting
Club Meetings





The Palo Alto Amateur Radio Association meets on the 1st Friday of the month at 7:00 pm (19:00 J) (except when the first Friday lands on a holiday and typically moved to the 2nd Friday of the month).

PLEASE NOTE: The meeting location has changed. We will now be meeting in Meeting Room H6, in the Cubberley Community Center in Palo Alto. Further information is below.

Click Here For Detailed Driving Directions

Location: Cubberley Community Center; 4000 Middflefield Road, Palo Alto, CA 94303.
Telephone: (650) 329-2418.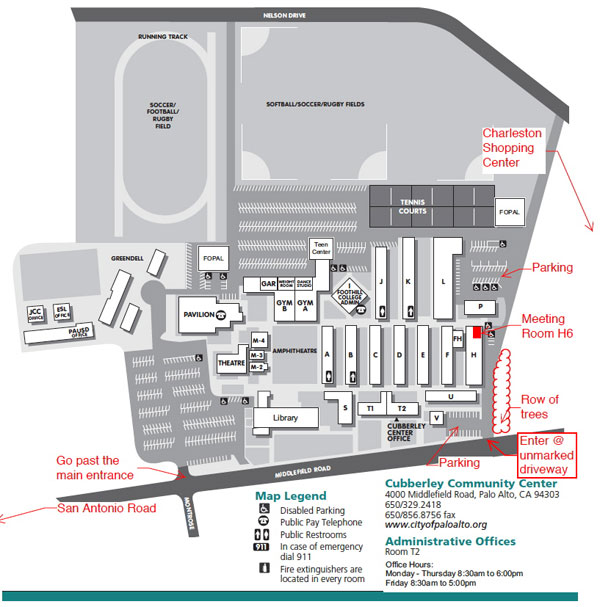 After the meeting, many members gather for beer, pizza, and eyeball QSOs at Round Table Pizza, located on El Camino Real, just a few blocks north of Ravenswood Avenue.
Location: 1225 El Camino Real, Menlo Park, CA 94025



Board Meetings



Map & Directions

The PAARA Board meets at 7:00 pm (19:00 J) at Round Table Pizza, located on El Camino Real, just a few blocks north of Su Hong. Location: 1225 El Camino Real, Menlo Park, CA 94025. We conduct most of our club business here in order to allow more time for guest speakers and socializing at regular club meetings. Any PAARA member is welcome to attend.

A few meetings throughout the year have pre-defined agenda items. These include:



September Board Meeting


The Nominating Committee is appointed by the President to decide on a slate of candidates to be recommended to the membership.



October General Meeting


The Nominating Committee presents its nominations to the membership at the regular club meeting. Nominations from club members opens at the beginning of the meeting, and closes at the end of the meeting.

December General Meeting
Elections are held at the December annual meeting.

Board of Directors and Appointed Staff