Meetings
Next PAARA Meeting

Friday - December 6, 2013
Program:

"K9W Commemorative DXpedition To Wake Atoll"
by John Miller, K6MM
John will present an overview of the recent Commemorative DXpedition to Wake Atoll. John was first licensed as WV2BQJ in 1958 while living in Syracuse, NY.  In 1976, John's career took him to Silicon Valley, where he reconnected with amateur radio in the lat 90s.

For the last decade, John has focused heavily on DXing, contesting, and recruiting new operators into the hobby.  His current DXCC total stands at 327 confirmed.  He holds 8-Band DXCC, working on completing 160M for the 9th band.  His article entitled "The No Excuses 160M Vertical" won the cover plaque award for the June 2009 issue of QST.

John is a member of ARRL, REDXA, MLDXCC, NCCC, NCDXC, and PAARA. He is Past-President of the Northern California Contest Club, a Director of the Northern California DX Club, a founding member of the CW Operators' Club, a member of the editorial staff of the National Contest Journal, and a Director of the Northern California DX Foundation.  He was also the co-chair for the 2011 and 2013 International DX Convention in Visalia, CA. John is also PAARA's webmaster.
Our "Dream To Reality" Raffle Prizes
(Download PDF List Of Prizes HERE)
FIRT PRIZE: 
Elecraft K3  HF- 6m
Special Thanks To Elecraft
SECOND PRIZE:
Icom IC-V80 
Thanks Vic AB6SO
THIRD PRIZE:
Two West Mountain COM Speakers
/ RF Proof Thanks Marty W6NEV!

FOURTH PRIZE: 
"Array of Light" third edition
by Tom Schiller, N6BT Thanks Tom N6BT!
FIFTH PRIZE:
Digital Multimeter
Thanks Vic AB6SO!
SIXTH PRIZE:
ARRL Handbook 2013
/ Thanks Bob Vallio W6RGG!
SEVENTH PRIZE:
ARRL Antenna Book 22nd Edition
/ Thanks Vic AB6SO!
EIGHT PRIZE:
ARRL Emergency Power Book
/ Thanks Bob Vallio W6RGG!
NINTH PRIZE: 
ARRL More Wire Antenna Classics Book
/ Thanks HRO!

Note: The proceeds from all raffle prizes are used to provide equipment & trained radio operators to benefit the public in emergencies & more. And to advance the state of the art of radio.
Past Meetings
Click on The Year/Month Below For A Past Meeting
Club Meetings





The Palo Alto Amateur Radio Association meets on the 1st Friday of the month at 7:00 pm (19:00 J) (except when the first Friday lands on a holiday and typically moved to the 2nd Friday of the month).

PLEASE NOTE: The meeting location has changed. We will now be meeting in Meeting Room H6, in the Cubberley Community Center in Palo Alto. Further information is below.

Click Here For Detailed Driving Directions

Location: Cubberley Community Center; 4000 Middflefield Road, Palo Alto, CA 94303.
Telephone: (650) 329-2418.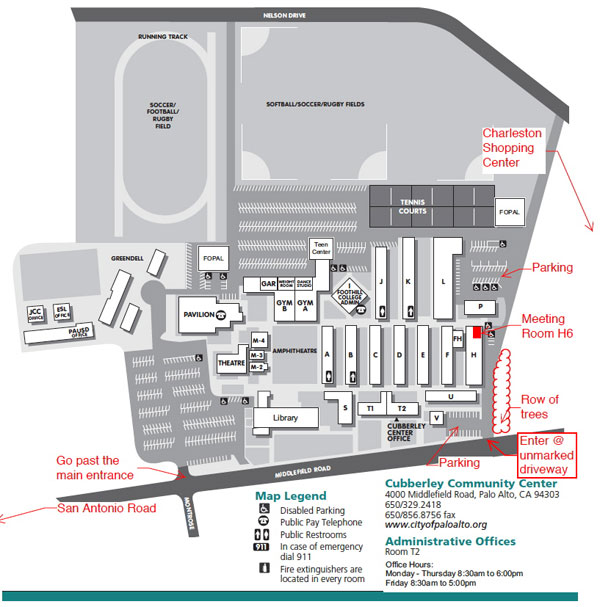 There is a pre-meeting dinner at the Su Hong Chinese resturaunt on El Camino Real, held to treat the guest speaker. Dinner starts promptly at 5:30 pm (17:30 J).
Location: 1039 El Camino Real Menlo Park, CA 94025

After the meeting, many members gather for beer, pizza, and eyeball QSOs at Round Table Pizza, located on El Camino Real, just a few blocks north of Su Hong.
Location: 1225 El Camino Real, Menlo Park, CA 94025



Board Meetings





Map & directions



The PAARA Board meets at 7:00 pm (19:00 J) at the Palo Alto Red Cross building, 400 Mitchell Lane, usually on the third Wednesday of the month. We conduct most of our club business here in order to allow more time for guest speakers and socializing at club meetings. Any PAARA member is welcome to attend.

A few meetings throughout the year have pre-defined agenda items. These include:



September Board Meeting


The Nominating Committee is appointed by the President to decide on a slate of candidates to be recommended to the membership.



October General Meeting


The Nominating Committee presents its nominations to the membership at the regular club meeting. Nominations from club members opens at the beginning of the meeting, and closes at the end of the meeting.

December General Meeting
Elections are held at the December annual meeting.

Board of Directors and Appointed Staff