Meetings

Next PAARA Meeting
Friday, June 6, 2014

"2013 C82DX DXpedition to Xai Xai, Mozambique, Africa"
by Rob Brownstein, K6RB
Rob will be joined by two other DXpedition members to present a talk about the 2013 C82DX DXpedition to Xai Xai, Mozambique, Africa

Rob Brownstein, K6RB, was first licensed at age 11 as KN2UMU in New York City's borough of Queens. He has maintained a consistent level of operational activity for 56 years. His preferred operating mode is CW and he spends nearly 99 percent of his time 'pounding brass.' His preferred activities are rag chewing and contesting with CW. Rob is president of the CW Operators Club (CWops) whose members number above 1000 and include hams in more than 70 countries. CWops' signature program is called "CW Academy" and teaches hams Morse code skills - both copying and sending - via three levels of courses from beginners to advanced. CW Academy is free, and its 20+ volunteer advisors train over 200 students per year.


Past Meetings
Click on The Year/Month Below For A Past Meeting
Club Meetings





The Palo Alto Amateur Radio Association meets on the 1st Friday of the month at 7:00 pm (19:00 J) (except when the first Friday lands on a holiday and typically moved to the 2nd Friday of the month).

PLEASE NOTE: The meeting location has changed. We will now be meeting in Meeting Room H6, in the Cubberley Community Center in Palo Alto. Further information is below.

Click Here For Detailed Driving Directions

Location: Cubberley Community Center; 4000 Middflefield Road, Palo Alto, CA 94303.
Telephone: (650) 329-2418.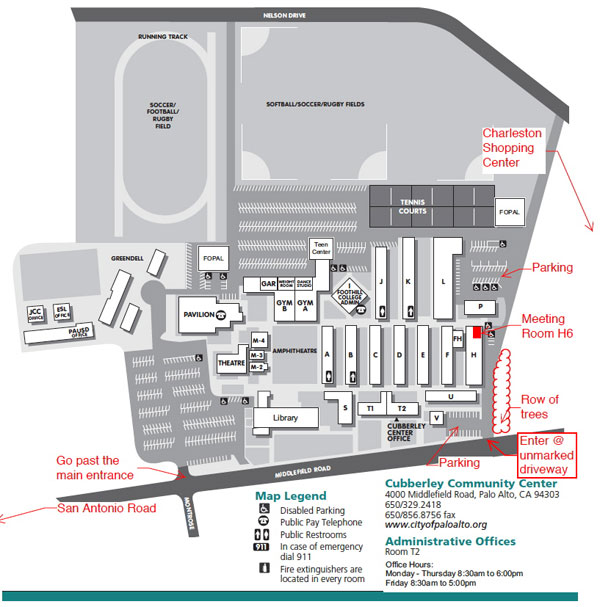 There is a pre-meeting dinner at the Su Hong Chinese resturaunt on El Camino Real, held to treat the guest speaker. Dinner starts promptly at 5:30 pm (17:30 J).
Location: 1039 El Camino Real Menlo Park, CA 94025

After the meeting, many members gather for beer, pizza, and eyeball QSOs at Round Table Pizza, located on El Camino Real, just a few blocks north of Su Hong.
Location: 1225 El Camino Real, Menlo Park, CA 94025



Board Meetings





Map & directions



The PAARA Board meets at 7:00 pm (19:00 J) at Round Table Pizza, located on El Camino Real, just a few blocks north of Su Hong. Location: 1225 El Camino Real, Menlo Park, CA 94025. We conduct most of our club business here in order to allow more time for guest speakers and socializing at regular club meetings. Any PAARA member is welcome to attend.

A few meetings throughout the year have pre-defined agenda items. These include:



September Board Meeting


The Nominating Committee is appointed by the President to decide on a slate of candidates to be recommended to the membership.



October General Meeting


The Nominating Committee presents its nominations to the membership at the regular club meeting. Nominations from club members opens at the beginning of the meeting, and closes at the end of the meeting.

December General Meeting
Elections are held at the December annual meeting.

Board of Directors and Appointed Staff